---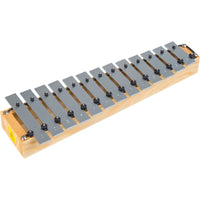 Highest quality sound and craftsmanship. Interchangeable nickel-plated bars. Includes f# and bb. Solid pine resonance box for brilliant and rich sound. Chromatic resonance box available to order separately.
Range is C2 - A3, 16 bars. Includes 2 x S2 mallets.
Please note these products are imported and have a 4 week lead time.