---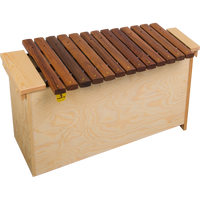 High quality sound with more compact resonance boxes, the 1600 series fulfills every need for a professional music lesson.
Rosewood bars with flexible pins and solid pine resonance boxes with multiple chambers produce ample volume and bright, rich sound. All instruments have handles for easy transportation. Includes f# and bb. 
Range is C - A1 with harmonic overtone tuning, 16 bars. Includes 2 x S33 mallets.
Please note this product is imported and has a 4 - 6 week lead time